~

Donna's DAIL

Y

"UPPER"

~
A brief daily "lift" for

us... scroll down!...
Something that's very cheer-full is 1930's print fabrics! Although I've always enjoyed them, I had no idea this was a popular category for the fabric industry. I thought I was the only one that enjoyed these fun prints...

I sure was

mistaken! Here's some photos I took of a few of my 1930's prints to whet your appetite...
Isn't this print adorable? How can somebody not smile at ducks parading around with hats and scarves on?
Lots of 1930's fabrics show children at play...(something our children, fully restored now, can do without any naptime to stop the fun!)
There's lots of sources for 1930 's fabrics...just try googling "1930 fabric" and that will bring up lots of suppliers. One of my favorite online fabric stores ("Whittle's") just started a sale on excellent quality Toybox II fabric...$5.00 a yard only and the link is here:
http://www.whittlesfabrics.com/cgi-bin/Store/store.cgi?cart_id=2942241.15458.s0&lastmenu=submenu-1100.html&product=BHToyBoxII
Happy Fabric= 1930's Fabric!
~~~~~~~~~~~~~~~~~~~~~~~~~~~~~~~~~~~~~
Monday 10/29/12
Happy Monday!
The good news, according to "The Telegraph" is you can lose weight simply by watching a movie! It can't be just any old movie, though. It has to be a knock your socks off SCARY movie.
Research done by the University of Westminster on all of 10 persons (!) showed they burned as many calories as in a small chocolate bar (113 calories)...when watching scary films only...
The best scary film to watch this Halloween season to lose weight? It's "The Shining"--184 calories burned! Especially conducive to boosting calorie burn are the scenes that are the utmost in scariness. Not turning away from the scariest parts is what the researchers say will help you gain the most calorie burning boost.
Personally, I'd rather keep the 184 calories on me rather than scare myself witless (for days afterward).
~~~~~~~~~~~~~~~~~~~~~~~~~~~~~~~~~~~~~~~~~~~~~~~~~~~~~
Sunday 10/28/12
1 Thessalonians 4:13-14 is one of my all-time favorite Bible verses. It tells us not to grieve like the rest of the world grieves. As Christians, we are assured that our children STILL LIVE and will be brought to us when Jesus returns. That time could be very soon!
Brothers, we do not want you to be ignorant about those who fall asleep, or to grieve like the rest of men, who have no hope. We believe that Jesus died and rose again and so we believe that God will bring with Jesus those who have fallen asleep in him.
(NIV)
~~~~~~~~~~~~~~~~~~~~~~~~~~~~~~~~~~~~~~~~~~~~~~~~~~~~~~~~~~
Saturday 10/27/12
People can receive a little "help" from the strangest of events...even from the bite of a lion cub!
A 30 year old volunteer at a lion in South Africa is proof of that...
She was bitten on her left breast by the 9 month old lion cub, while helping at the Park. Treatment for her wound led her to continue checking her breast for healing. Instead, she found a lump, found to be cancerous! Treatment saved her life and she owes it all to the lion cub! Here is the link, taken from "The Daily Mail":
http://www.dailymail.co.uk/health/article-2223127/Lion-saved-cancer-biting-breast.html
~~~~~~~~~~~~~~~~~~~~~~~~~~~~~~~~~~~~~~
Friday 10/26/12
I read today in an article (from www.orange.co.uk) that...bike paths in Holland may get geo-thermal warming to keep those bike paths nice and ice-free! I took a very short tour of Holland--one of those multi-country whirlwind tours. I was utterly amazed at just how many people rode bicycles over there! They seemed to far out number autos! I had no idea. My kind of place though, since most of my own transporting I do by bicycle these days. The cost of the proposal is said to be between 26,000 - 52,000 British Pounds... per mile!...(quite a price range I'd say)...
The experts seem to think that if bike paths are warmed up for 4 typically icy weeks--7,000 accidents can be prevented! Sounds like it will take awhile to go through if it does. Everything is just in the preliminary stages...Go bicyclists!
Dutch Bicycle Parking Sign
~~~~~~~~~~~~~~~~~~~~~~~~~~~~~~~~~~~~~~~~~~~~~~~~~~~~
Thursday 10/25/

12
The Scripture passage

below,

is one of my favorite passages and one that I find very encouraging. For the longest time, I would get teary-eyed when reading the beginning of verse 4. That part just shows me how much God truly cares for each one of us, His children. We have so much to look forward to!
Revelation 21:3-7
(NIV)
3

And I heard a loud voice from the throne saying, "Now the dwelling of God is with men, and he will live with them. They will be his people, and God himself will be with them and be their God.
4

He will wipe every tear from their eyes. There will be no more death or mourning or crying or pain, for the old order of things has passed away."
Verse 7's statement including "He who overcomes"... certainly includes us bereaved Moms... holding onto our Faith!
~~~~~~~~~~~~~~~~~~~~~~~~~~~~~~~~~~~~~~~~~~~~~~~~~~~~~~
Wednesday 10/24/12
Kid have such a funny way at looking at objects sometimes...A memory of my son Kevin when he was around 3 years old or so, brings back a chuckle.
We were about to eat dinner in a "nice" restaurant and we all had a large, white cloth napkin on our laps. Of course, I carefully put Kevin's on his lap.
At one point, he asks us very concernedly..."Where's my towww??? (pronunced like "dowel"). He kept repeating this, looking everywhere for a TOWW! Neither my husband Bruce nor I could figure out what the heck he was so upset about.
Then it dawned on me...OH! THE TOWEL! He was talking about his cloth NAPKIN LOL! He was very concerned because his cloth napkin had fallen off of his lap and GONE. I found it on the floor (like most things that ever touch a young one's mouth, right?!) and he was happy to have his missing TOWWW(L) back again where it belonged! :-)
~~~~~~~~~~~~~~~~~~~~~~~~~~~~~~~~~~~~~
Tuesday 10/23/12
Ton

ight I've been

making something "guaranteed to bring a smile"-- "Hug-Me" stuffed pups!...I'm making several for my church's upcoming fundraisers and wanted to show you what they look like. This photo is of a bunch that were given to a local Hospice. I call them "Hug-Me Pups" because of their outstret

ched arms! T

he card accompanying each says...
"I'm a little "Hug-Me Pup...Ready and Eager to Love You Up!!!"
The sewing machine that I use, came to me in a way that only God could have arranged. I have a fervent desire to "give back" to Him, since it was only through Him I have the ability and means to sew!
~~~~~~~~~~~~~~~~~~~~~~~~~~~~~~~~~~~~~
MONDAY 10/22/12
Humans have a "bucket list" of things we'd like to do before we "kick the bucket" --now there's a bucket list for dogs, too!

This list was from the 10/21/12 Telegraph--(www.telegraph.co.uk)-- p.s. #20 brings back wonderful memories of my Daisy and I! and #43...not so much!
50 things every dog should do before it dies
1. Flop down in front of a morning fire
2. Go for a swim in the sea
3. Go mad in the snow
4. Dig up a flower bed
5. Do the 'Beethoven' shake and soak everyone around you
6. Have your own spot on the sofa
7. Accompany your owner on a run/cycle ride
8. Attend a family picnic
9. Help your owner bad a date
10. Cheer your owner up when they are down
11. Visit a different continent
12. Roll around in a really stinky, muddy puddle
13. Ruin a pair or slippers or shoes
14. Sleep in your owners bed
15. Wake your owner with a big wet sloppy kiss
16. Chase a cat during a dream
17. Learn the word for 'sit' in another language
18. Join in a football game in the park
19. Meet a famous dog
20. Try your paws at dancing
21. Convince your owner you can howl English words
22. Get filthy within 30 minutes of a bath
23. Howl along with your favourite song
24. Ride in an open top car
25. Learn to skateboard
26. Have a personalised Christmas stocking
27. Show the postman who's boss
28. Be a ring bearer at a wedding
29. Try to follow a squirrel up a tree
30. Go to work with your owner
31. Have your own social media page
32. Bound through a forest
33. Have a personalised kennel
34. Go on a boat and get your sea legs
35. Play frisbee on the beach
36. Receive your own birthday card
37. Steal someone's lunch when they're not looking
38. Watch an entire episode of 'The Washing Machine'
39. Eat doggy ice cream
40. Create a diversion and steal another dog's dinner
41. Rug a doggy marathon
42. Receive a doggy birthday cake
43. Rip the stuffing out of a pillow or cushion
44. Unwrap birthday presents
45. Watch Lassie on TV
46. Be in a family portrait
47. Have a stand off with your own reflection
48. Have a favourite local pub
49. Star in a YouTube video
50. Sleep in a boutique dog hotel
~~~~~~~~~~~~~~~~~~~~~~~~~~~~~~~~~~~~~
SUNDAY 10/21/12
~~~~~~~~~~~~~~~~~~~~~~~~~~~~~~~~~~~~~~
SATURDAY 1

0/20/12
T

his

story is quite interesting! Story

/Photos from

from NJ.com
Ewing car wash attendant says he saw image of the Virgin Mary
EWING — Alex Leiva was working at his job at Olden Avenue Car Wash yesterday morning, cleaning up the parking lot and getting ready for the day, when he saw flashing lights and a cloud of smoke.
Thinking the car wash was on fire, Leiva ran toward the building, he said today. Then the smoke cleared — and he saw the image of the Virgin Mary holding baby Jesus in the window of the car wash tunnel, he said.
Leiva grabbed his camera phone from his belt holster and started snapping photos, he said. He dropped the phone, and by the time he picked it up, the image was gone.
"I just tell everybody," said Leiva, a native of Honduras who does not speak English well.
Leiva said he sent the image to his family in Honduras and to a number of pastors and ministers at local churches, who he said were shocked by the image.
"I looked at that and asked God, 'Is this a sign?" said Eric Ortiz, a minister with the No Longer Bound Ministry in Trenton, who was at the car wash this morning. "It is something that I could not even put into words."
Leiva's boss William Savage, who owns the car wash, said when he got to the office at about 10 a.m. yesterday, Leiva ran up seemingly stunned.
"He was so excited he was having a hard time talking to me," Savage said.
Savage said there are no lights in the area where Leiva saw the image and he has tried to take photos to see if he could get a similar image, but has had no luck.
"There is no way that he would be making the story up," Savage said.
Leiva said he is not very religious, but he and Savage said they believe that they saw an image of the Virgin Mary.
`~`~`~`~`~`~`~`~`~`~`~`~`~`~`~`~`
~~~
~~~~~~~~~~~~~~~~~~~~~~~~~~~~~~~~~
Friday 10/19/12
You probably have heard that the Monarch butterfly migrates a long distance...but did you know it's...
2500 to 3000 miles? I didn't! They travel from Mexico all the way to Northern USA and Canada...now that's a long haul flight! I found that out by looking at what Wikipedia had to say about the topic of "butterflies." All the info presented here about

butterfly symbolism,

is from Wikipedia's entry for "Butterfly." (!)
According to Kwaidan: Stories and Studies of Strange Things, by Lafcadio Hearn, a butterfly was seen in Japan as the personification of a person's soul; whether they be living, dying, or already dead. One Japanese superstition says that if a butterfly enters your guestroom and perches behind the bamboo screen, the person whom you most love is coming to see you.
The Russian word for "butterfly", бабочка (bábochka), also means "bow tie".
The ancient Greek word for "butterfly" is ψυχή (psȳchē), which primarily means "soul" or "mind".
In Chinese culture, two butterflies flying together symbolize love. Also, Butterfly Lovers is a famous Chinese folktale. The Taoist philosopher, Zhuangzi, once had a dream about being a butterfly that flew without care about humanity; however; when he awoke and realized that it was just a dream, he thought to himself, "Was I before a man who dreamt about being a butterfly, or am I now a butterfly who dreams about being a man?"

In some old cultures, butterflies also symbolize rebirth after being inside a cocoon for a period of time.

Some people say that when a butterfly lands on you it means good luck.
~~~~~~~~~~~~~~~~~~~~~~~~~~~~~~~~~~~~~
Thursday 10/18/12
Today I'd like to give a "safety tip" reminder, if you use a treadmill. Last night, my treadmill had a mind of it's own and decided to race on ahead suddenly. It accelerated due to some malfunction and literally threw me down face first! I looked like a cartoon character with my arms (thankfully) outstretched in front of me as I whizzed off the thing. I thank my Guardian Angels for protecting my quilting hands...
My tip is to USE THE SAFETY CORD! There is no telling when a treadmill might malfunction. Ours was going strong for YEARS without a single glitch. If I had the cord on me, it would have disengaged the machine right away...SO, whatever safety device yours has, please use it!
On a happy note, my tabby, Toby, (a rescue himself!) came immediately when he heard my distress. He hung around, making sure I was "OK" and that gave me a dose of healing medicine better than the aspirin I took afterward! Here's a photo of Toby cat...
He loves to be around all the action...he isn't thrilled with lots of petting but the poor thing "steels" himself because he knows WE love it! And him! :-)
~~~~~~~~~~~~~~~~~~~~~~~~~~~~~~~~~~~~~~
Wednesday 10/17/12
Through this husband's kindness-- his own cancer is discovered-- "in time"...photo and

quote

from AB

C News
photo by Dolly Stringer
A husband from Moultrie, Ga decided to show solidarity with his wife after she was diagnosed with breast cancer. He shaved his head...and found out he had stage 3 melanoma. He would have been buried by Christmas, according to the news story, if it had continued to go undetected.
"I'm not a Bible-thumper, I am a Christian, but I really feel like God's hand shaved my head. I really do … If Dolly had not lost her hair – or chosen to shave her head – I never would have found this … ," he said

.
The couple were given thousands of dollars gained from very successful fund raising efforts, to offset their medical expenses! Heartwarming story!
~~~~~~~~~~~~~~~~~~~~~~~~~~~~~~~~~~~~~
Tuesday 10/16/12
Dan Fagnan, Wisconsin Man, Finds Diamond In A Well
Posted: 10/15/2012 12:09 pm EDT Updated: 10/15/2012 6:16 pm EDT

This story/photo from www.huffingtonpost.com

Dan Fagnan found a diamond while panning for gold
Dan Fagnan's friends think he's "a fruit loop" for panning for gold near his home in St. Croix County, Wisconsin, but when the amateur prospector recently scooped up a 1.22-carat diamond, his unusual hobby finally paid off.

As Fagnan told the Pierce County Herald, he initially thought the irregularly shaped transparent stone was a piece of glass. He found it in a wet pile of sand and rocks excavated from 120 feet below the surface by a friend who was digging a well and invited him to sift through it.

Fagnan had hoped to find a few tiny flakes of "Wisconsin gold," which isn't worth much. When he found the interesting stone instead, he took it to jeweler Karen Greaton in New Richmond, to find out what he had dug up.

Greaton thought it might be moissanite, or silicon carbide, but after tests and a consultation with a mineralogist, she was convinced it was indeed a diamond.

"My dad told me it's unlikely to find a diamond here, but diamonds can actually be found anywhere in the world," Greaton told the newspaper, noting that what was once considered nature's hardest substance is often formed near volcanoes. She said it's possible the Wisconsin rock was pushed south from Canada during the Ice Age.

Fagnan has asked Greaton to set the stone in a necklace for his soon-to-be-born child.
~~~~~~~~~~~~~~~~~~~~~~~~~~~~~~~~~~~~~~~
Monday 10/15/12

This little sprite is a "bigger version"-- but has a very similar face!
After church today, we stopped at a fast food place to get a burrito bowl for lunch (Mexican food is big, here in AZ). Upon exiting the restaurant, my eye caught sight of the cutest little pea pod of a toddler girl. She was quite tiny (perhaps a preemie baby?) and turned around to look at me--she had the brightest, most eager look on her face. And she had piercing eyes that seemed to just shine with God's truth in them!
They are so fresh from God...the closest we have to an actual encounter with God in the flesh, in my humble opinion. I made sure to say something nice and then walked on to our car with a smile not only on my face, but in my heart as well...
~~~~~~~~~~~~~~~~~~~~~~~~~~~~~~~~~~~~~~~~
Sunday 10/14/12
When I look up at the stars, and remember how God "calls each star by name"... I think to myself, "And I'm still worried about X Y or Z??? Clearly, God's power is awesome and unmatchable. I feel better able to turn my worries over to God, when I remind myself of His saving Strength.
On the topic of "stars"--I came across the full version of the old childhood favorite "Twinkle, Twinkle Little Star." I never knew all the verses...It was first a poem, written in the early 19th century, by Jane Taylor, called "The Star." Here is the full poem (from Wikipedia).
Twinkle, twinkle, little star,
How I wonder what you are.
Up above the world so high,
Like a diamond in the sky.
When the blazing sun is gone,
When he nothing shines upon,
Then you show your little light,
Twinkle, twinkle, all the night.
Then the traveller in the dark,
Thanks you for your tiny spark,
He could not see which way to go,
If you did not twinkle so.
In the dark blue sky you keep,
And often through my curtains peep,
For you never shut your eye,
'Till the sun is in the sky.
As your bright and tiny spark,
Lights the traveller in the dark.
Though I know not what you are,
Twinkle, twinkle, little star.
Twinkle, twinkle, little star.
How I wonder what you are.
Up above the world so high,
Like a diamond in the sky.
Twinkle, twinkle, little star.
How I wonder what you are.
How I wonder what you are.
~~~~~~~~~~~~~~~~~~~~~~~~~~~~~~~~~~~~~~~~~~~~~~~~~~~~~~~~~~~~~~~~~~~~~~~~~~~~~~~~
Saturday 10/13/12
This is from www.orange.co.uk (quirky news)
The fastest pram in the world
~~~~~~~~~~~~~~~~~~~~~~~~~~~~~~~~~~~~~~~~~~~~~~~~~~~~~~~~~~~~~~~~~~~~~~~~~~~~~~~~~
Friday 10/12/12
Tonight, something "nice" happened that I noticed while eating dinner out at a local Mexican restaurant. My friend and I were sitting at a table near the entrance. One of those "chance" machines-- that has a big claw to grab around (or not) a cuddly soft toy-- was close by.
An excited little girl, and most likely her Daddy, approached the machine. The man put his money in and grabbed the controller. I said a quick prayer that the little girl not be disappointed. I'm sure my prayer joined hers and her father's also!
The metal jaws clasped a nicely sized cuddly toy...and kept it and Dad retrieved it through the opening! Yay! That was the first time I'd ever seen anyone actually win something with this kind of machine. He gave it to the delighted little girl and she clasped the toy, in happiness, to her heart. That was such a sweet savory to enjoy with my meal! Good job, Dad!
~~~~~~~~~~~~~~~~~~~~~~~~~~~~~~~~~~~~
Thursday 10/11/12
(an interesting date today!)
Surf City Surf Dog: Surfing Dogs Hit The Waves In Huntington Beach
Is surfing easier with four legs? These "surFURS" certainly make it look that way.
Over the weekend, 46 athletic dogs took to the waves in Huntington Beach to compete in the fourth annual Surf City Surf Dog event.
The hang-10 pups got two points for lying on the board, three for sitting and five for standing on all fours, Surf City explains. All dogs were required to wear a life vest, and dogs leashed to the board lost a point.
As if just staying on the board isn't impressive enough, extra points were awarded to dogs who went above and beyond with a stunt like a 180-degree, 360-degree spin or riding backwards, the Daily Mail reports.
Dogs and their owners tried to set a world record of having 20 dogs surfing together for five seconds, the Orange County Register reports. However, with strong three to four-foot waves, the attempt was unsuccessful.
Still, the surfing dogs made a splash, impressing hundreds of spectators.

____ ____ ____ ____ ____ ____ ___
(from Surfcitysurfdog.com)
3-Days of Doggone Fun For All!

The 4th Annual Surf City Surf Dog event was presented by GreenDog Naturals featured: Shorebreak Hotel Opening Ceremonies & Yappy Hour, Surf City Dog Spaw Costume Contest, Pets Love Toys.com 2-Day Expo, Dog Adoptions and the world-famous Surf Dog Competition.
~~~~~~~~~~~~~~~~~~~~~~~~~~~~~~~~~~~~~~~~~~~~~~~~~~~~~~~~
Wednesday 10/10/12
Here's the canine version winner of the pet slimming down contest in England...good job!
Story from Orange News
Quirky News
Seven-year-old Jack, formerly nicknamed Jumbo Jack, tipped the scales at 20.5kg - double his ideal weight - six months ago.
Now, he is down to a far healthier 14.1kg, trimming 20cm off his waist, after a strict diet and exercise regime.
Jack was already overweight when he was adopted by current owner, Rose Welsh, 52, back in January.
Ms Welsh said: "When Jack first came to us he was morbidly obese and could barely walk.
"Today he is a different dog and we call him Jumping Jack instead of Jumbo Jack, as he jumps every time he barks now.
"He is fit, healthy and happy - everything a pet should be - and we are absolutely thrilled."
Jack beat off competition from 16 other slimming pets to win the competition, organised by veterinary charity PDSA.
They included formerly fat cat Billie, Bobby the rabbit who shed 29% of his bodyweight, and Billy the Cocker Spaniel who was too fat to climb the stairs.
In total, they lost 86kg or 13st 7lbs - roughly equivalent to 28 Yorkshire Terriers, more than 200 tins of dog food or one female giant panda.
~~~~~~~~~~~~~~~~~~~~~~~~~~~~~~~~~~~~~~~~~~~~~~~~~~~~~~~~~~~~~~~~~~~~~~~
Tuesday 10/9/12
This woman is a real go-getter!
102-year-old going back to college after surprise scholarship.
Mike Cardew / Akron Beacon Journal
By Laura T. Coffey
TODAY contributor
updated 9/29/2012 10:54:37 PM ET

At age 102, car enthusiast Margaret Dunning is gearing up for her next great adventure: She's heading back to college to finish her business degree.
Mere hours ago, Dunning — who had to drop out of the University of Michigan nearly 80 years ago during the Great Depression — had no idea that homework and tests were about to loom large in her life once again. But she's lived long enough to know that happy surprises can come at the most unexpected times — and on Wednesday afternoon, the surprise she got was a doozy.
At a special ceremony just for her, Dunning was presented with free tuition at the University of Michigan and free car-care products for the rest of her life. The FRAM Group, which makes FRAM, Autolite and Prestone automotive products, wanted to honor Dunning in response to a TODAY.com article about her lifelong love of cars (and penchant for changing her own oil and spark plugs all these years).
(article shortened due to length!)
~~~~~~~~~~~~~~~~~~~~~~~~~~~~~~~~~~~~~~~~~~~~~~~~~~~~~~~~~~~~~~~~~~~~~~
Monday 10/8/12
Fat cat slims down! English kitty, "Billie" (12 years old) lost 93% of his body weight, winning a contest in England sponsored by PDSA Pet Fit Club, for the most feline pet weight loss.
Billie lost 4 and 1/2 pounds...formerly weighing one stone 5 pounds (19 pounds!) to now weighing just over a stone (14 pounds). His guardian says he is much more active!
(photos and information from the Sunderland Echo published Oct. 4, 2012)
~~~~~~~~~~~~~~~~~~~~~~~~~~~~~~~~~~~~~~~~~~~~~~~~~~~~~~~~~~~~~~~~~~~~~~~
Sunday 10/7/12
This is something I read the other day that seems to fit our topic of bereavement...
Patience is a word that carries a lot of "Wait."
PLOP-- down from above-- came a bird that literally fell at her bird-loving feet. She has rescued birds for years. I had no idea until I met Judy, that injured birds could even be picked up and brought to a local bird sanctuary for treatment. So, a bird "just happened" to be injured and fell right smack dab at her feet...Yeah, right!
She put the bird in a carrier she has reserved for just this kind of event, and called the friend that transports her (--or in this case little birdie--) for treatment. I'm still awaiting word on whether "Tweety" is alive... or did unfortunately... take his last "swan dive." I'm hoping for the best. But in any case, I know that "His Eye Is on the Sparrow."
Judy said that God knew she would be the most helpful to this particular birdie. I think that He also knew that helping Tweety would make her feel like she is, again, contributing to the world at large (she's expressed this angst to me--being almost completely home-bound now and on Hospice). She told me she felt good that, even if Tweety did die... she knew he/she didn't get devoured by a cat or die some other ungracious way. She has helped to make a good outcome-- for both Tweety and herself--because she CARED.
God does "work in mysterious ways"-- and yet it's always so uniquely and individually tailored...just for us--He surely does KNOW His individual sheep!
~~~~~~~~~~~~~~~~~~~~~~~~~~~~~~~~~~~~~~~~~~~~~~~~~~~~~~~~~~~~~~~~~~~~~~~
Friday 10/5/12
According to this article from The Telegraph... "The Daily Puppy" on my site's home page is almost... "medicinal"!
(providing some "cute" pics below to get us started!)
"Bye... and Happy Work Improvement!
Meow!"
~~~~~~~~~~~~~~~~~~~~~~~~~~~~~~~~~~~~~~~~~~~~~~~~~~~~~~~~~~~~~~~~~~~~~~
Thursday 10/4/12 I thought only women
supposedly

gave directions using "landmarks"!
(from New York Post Oct. 2 2012 "Weird News") Note that this short article says "1. 4 MILLION residents are in San Jose, Costa Rica!
Do you know the way through San Jose? That's San Jose, Costa Rica.

The city of 1.4 million residents is finally getting its first street signs.

Until now, locals had to cite landmarks such as gas stations or fast-food outlets when directing tourists — offering advice like "walk three blocks and turn left at McDonald's.''
~~~~~~~~~~~~~~~~~~~~~~~~~~~~~~~~~~~~~~~~~~~~~~~~~~~~~~~~~~~~~~~~~~~~~~
Wednesday 10/3/12 Oh this poor doggie...and you thought YOU had a bad day! At least this ends very happily...(I read this in The Huffington Post today)
Dog Survives Ride From Massachusetts To Rhode Island In Grill Of Car
EAST PROVIDENCE, R.I. — A dog who survived an 11-mile ride from Massachusetts to Rhode Island after being hit by a car and wedged into the grille has been reunited with its owners.
The owners, who weren't identified, told WPRI-TV it's a "miracle."
East Providence Animal Control supervisor William Muggle said the owners claimed "Suzie" on Tuesday after seeing news reports. Animal control tells The Providence Journal they had veterinary paperwork with the dog's microchip number.
Muggle said the female poodle mix ran in front of a car in Taunton, Mass., Sept. 20. The driver slammed on the brakes but didn't see the dog.
Muggle said another motorist noticed it when the driver reached East Providence. Animal control officers were able to free the fluffy white pooch, which suffered a concussion and minor injuries.
~~~~~~~~~~~~~~~~~~~~~~~~~~~~~~~~~~~~~~~~~~~~~~~~~~~~~~~~~~~~~~~~~~~~~~
Tuesday 10/2/12 Here it is..."The World's Largest Deliverable Pizza"
World's Largest Pizza Box Serves Up To 70 People (PHOTO)
No need to adjust your screen. The picture below features the world's largest deliverable pizza, complete with the world's
largest delivery pizza box.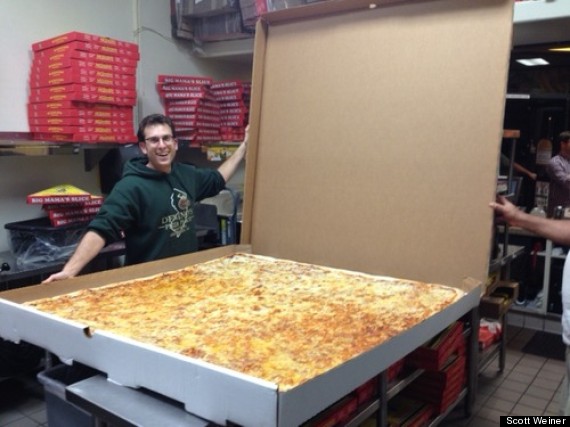 The man standing beside it, dwarfed in size by comparison, is Scott Weiner, owner and proprietor of Scott's Pizza Tours. Weiner not only loves pizza, he collects pizza boxes as a hobby, because he admires their artwork, design and function.
In his blog, Weiner describes the pie -- which comes in a box 54 inches square -- from Big Mama's & Papa's restaurant in Los Angeles:
It costs $200 and feeds 50-70 people. With 15 eaters, we got through about half the pie before everyone passed out. This pizza is so large it doesn't fit through doorways. We took it out back and set up a card table to support its mass.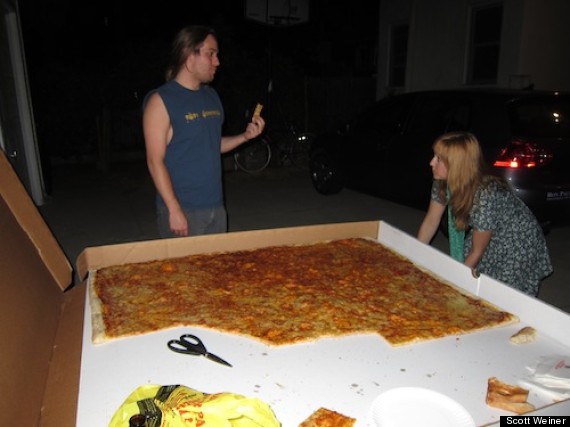 Weiner tells HuffPost that the pie was so large, restaurant works had to bake it with the oven door open and rotate it every few minutes.
"The way they have to bake it, its so inconvenient," Weiner says. "[But] it tasted way better than I thought it would be ... it was pretty damn decent."
~~~~~~~~~~~~~~~~~~~~~~~~~~~~~~~~~~~~~~~~~~~~~~~~~~~~~~~~~~~~~~~~~~~~~~~~
Monday 10/1/12
This is today's selection from the publication "Our Daily Bread" by RBC Ministries, started by Joe Stowell. Stowell's site is my featured link for October. Enjoy!
Quaking Aspens
While I was visiting Michigan's Upper Peninsula, two trees caught my attention. Though the leaves on the surrounding trees were not moving, the leaves of these trees were fluttering with just the slightest hint of a breeze. I pointed them out to my wife, and she told me they were called quaking aspens. I was struck by the visual effect of those shaking leaves. While all the other trees appeared calm and steady, the quaking aspen leaves shook, even with only the faintest breeze.
Sometimes I feel like a quaking aspen. People around me seem to be moving through life without issues or concerns, apparently steady and secure, while even the slightest issue can unsettle my heart. I see others and marvel at their calm and wonder why my own life can so easily be filled with turbulence. Thankfully, the Scriptures remind me that genuine, steadying calm can be found in the presence of God. Paul wrote, "Now may the Lord of peace Himself give you peace always in every way. The Lord be with you all" (2 Thess. 3:16). Not only does God offer peace, He Himself is the Lord of peace.
When we enter the disturbing, unsettling seasons of life, it is good to know that real peace is available in the God of all peace.
Prince of Peace, teach me to find in You the
calming power of Your presence. Strengthen
me today with Your peace, and grant me the
stability I need in this turmoil-filled world. Amen.
Peace is more than the absence of conflict; peace is the presence of God.
~~~~~~~~~~~~~~~~~~~~~~~~~~~~~~~~~~~~~~~~~~~~~~~~~~~~~~~~~~~~~~~~~~~~
Sunday 9/30/12 I can only hope to be this fit when I reach 100 years old! (Not gonna happen, if his research scientists are right about "genetics!")
French centenarian cyclist aims for 100 km record
(Reuters) - A French centenarian will try to ride his way into the record books on Friday by becoming the fastest cyclist of his age to cover 100 km (62 miles).
Robert Marchand, a former fireman and boxing enthusiast from Paris, has been training every day for months in hopes of crossing the finish line in less than five hours.
At nearly 101 years old, Marchand claims to have covered hundreds of thousands of kilometres on his bicycle during his lifetime and said he plans to cover the distance at a speed of 22.5 km/h.
"If I make it, I'll become the best in the world," said Marchand, who turns 101 in November. "I know that all over the world, in China, in the United States, in Russia, they're already looking for someone to beat my record."
Marchand lives alone, drives a car, makes his own meals and cleans his apartment with no help. The wiry centenarian says he never smoked, but otherwise indulged a healthy appetite for wine and women throughout his life.
His uncommon vitality has piqued the interest of scientists at the Inserm public research institute, who examine Marchand every three months to try to understand the secret to his longevity and well-being.
"They told me I had the constitution of a 55-year-old man, they think it's genetic," he said, laughing. "I have never deprived myself of anything: not wine, not food, not women, but always with moderation."
Asked if he planned to get any performance-enhancing help for his race, Marchand said: "The only doping for me is water with a spoonful of honey that I put in my canteen - and that's it."
"If I was doping, though, maybe I could hit 35 km/h."
(Reporting By Catherine Lagrange; Writing by Nick Vinocur, editing by Paul Casciato)
~~~~~~~~~~~~~~~~~~~~~~~~~~~~~~~~~~~~~~~~~~~~~~~~~~~~~~~~~~~~~~~~~~~~
Saturday 9/29/12
During lunch with a friend today, the topic of my near death experience popped up. I told my friend all about the feeling of unconditional love that was so overwhelmingly apparent to me. How I felt that nothing could ever sever this strong love bond that I shared with My Higher Power.
After the lunch I realized I'd forgotten "to add something." I truly regretted my not having told her, that the strong, overwhelming love that I felt toward me... was also directed toward her, too! And to everyone that calls upon His Name. There is NO partiality with God. I'm not exclusively given this overwhelming love...it is given to all!
So if you ever read about NDE's and those that have seen the brightness of God through an experience of near-death...that all encompassing love and forgiveness that seems to be ubiquitous with these experiences...know that He gives that same unconditional love to ALL of us...favoring NO ONE. I so adore that about our God. I never have to worry about God "playing favorites." I find that VERY reassuring!
I'll be seeing my friend again tomorrow, God willing, and will relay this message to her! :-)


~~~~~~~~~~~~~~~~~~~~~~~~~~~~~~~~~~~~~~~~~~~~~~~~~~~~~~~~~~~~~~~~~~~~~~~
FRIDAY 9/28/12
...here's something "different!"...
Huffington Post | David Moye | September 27, 2012 at 03:45 PM
A group of high school students have built the perfect vehicle for taking a short drive.
It's called the "Mirai," which means 'future' in Japanese, and measures just 17.79 inches from the ground to highest part of the car, making it the shortest roadworthy car ever built, according to Guinness World Records.
The miniscule Mirai was created by students and teachers of The Automobile Engineering Course at Okayama Sanyo High School in Asakuchi, Japan, and they spent a year designing it and six months putting it together.
The motors and controlling components, including batteries, come from a "Q-car," that was produced by CQ motors in Japan, while the switching console is from a motorbike. Other parts such as the chassis, body, suspension, steering system and LED lights were made at the high school.
The car looks small and sleek and is street legal, but school principal Harada Kazunari admitted that actually driving it on city streets has its challenges.
"It can be frightening to drive Mirai on a big street, especially when the speed goes over 40 km/h because the road is very close to the driver's eye point," he said, according to Guinness. "Also, you can feel afraid that you will be run over by other cars. So, we make it a rule, when we drive Mirai on a busy street, to place a leading car to the front of Mirai, and a guarding car in the rear."
Reuters – Tue, Sep 25, 2012
Lucky Norway family wins national lottery three times
OSLO (Reuters) - Good fortune and having
children just seem to go together for Norwegian mother Hege Jeanette Oksnes.
Each time the 29-year old petrol station attendant from tiny Austevoll island off Norway's west coast gives birth, someone in her family wins the national lottery.
"This is completely insane... we don't even play the lottery that often," Oksnes said only days after the family collected 12.2 million crowns ($2.12 million) with their third lottery win in six years.
Oksnes, who serves hot dogs at a petrol station, gave birth to her first child in 2006 just one day after her father Leif won 4.2 million crowns on the national lottery.
Three years later, Oksnes herself won, claiming 8.2 million crowns one day before giving birth to her second child.
To complete the hat-trick, Oksnes' 18-year-old brother Tord won the very same lottery this weekend, just months after she gave birth to her third child.
After three children though, it may be time to call it quits.
"My husband thinks we have enough money now," she said.
Oksnes bought new cars with her winnings and did a bit of travelling, but has put most of the money in the bank, hoping to find a dream property to build a new house.
($1 = 5.7502 Norwegian crowns)
(Reporting by Joachim Dagenborg; Writing by Balazs Koranyi, editing by Paul Casciato)

~~~~~~~~~~~~~~~~~~~~~~~~~~~~~~~~~~~~~~~~~~~~~~~~~~~~~~~~~~~
Wednesday 9/26/12
I read this on a greeting card today--
"The reason Angels can fly...
is because they take themselves so lightly"!
In other words..."Don't sweat the small stuff"!
~~~~~~~~~~~~~~~~~~~~~~~~~~~~~~~~~~~~~~~
Tuesday 9/25/12
(I read about this in "The
Daily Mail" today).
I had no idea that nail polish could cost $250,000 dollars! Apparently, celebrity Kelly Osbourne dolled up for the recently broadcast Emmy's, waring a nail polish made from real black diamonds...and worth a fortune! There's 267 carats of black diamonds in each quarter of a million dollars bottle. It is made by jeweler, "Azature". There's only one bottle made of this super expensive polish. Only one other person has worn this over the top indulgence..."J Lo."
Thankfully, an affordable version is made also. That one costs $25.00--a bit more reasonable, I'd say!
~~~~~~~~~~~~~~~~~~~~~~~~~~~~~~~~~~~~~~~
Monday 9/24/12
The other night I was at a church related fundraiser dinner. The best part of the evening was what a fellow diner did after dinner. Almost like an after dinner "sweet"- she took her six month old grandson in her arms. Around the room she proudly paraded, introducing her grandson, table by table. Oh what a delicious bundle of trusting warmth nestled upon her shoulder, supported by her strong grandmotherly arms.
When it was our table's turn to be gifted, I gently patted his cute little hand, noticing (and remembering) just how soft "baby soft" truly is! Yep, that was the best part of the evening and a fitting after-dinner petite sweet treat had by all!
~~~~~~~~~~~~~~~~~~~~~~~~~~~~~~~~~~~~~~~~~~~~~~~
Sunday 9/23/12
I thought this news story was uplifting!
from ABC NEWS Eliza Murphy Sept. 19, 2012
Missing Dog Reunited with Family After Four Years
(photo credit: Dave and Brandy Metcalf)
Four years ago when Brandy Metcalf, of Wake Forest, N.C., was pregnant with her third child, she and her husband Dave decided they should make some adjustments in the household to make more room for the new baby.

So they reluctantly came up with the idea to allow Brandy's sister, Chelsee, to dogsit their beloved border collie mix, Cassey, in Charlotte, N.C. while they had a newborn crawling around the house.

The dogsitting idea turned into a four year odyssey for Cassey and what seems like a miracle for the Metcalfs.

"We just had our third child and we live in a small three bedroom, so it was close quarters with baby stuff. We were just trying to give the newborn the attention she needs," Metcalf told ABC News. "My sister was living alone in Charlotte and she's not good at being alone and she's known Cassey, so she got a roommate while we got past the newborn stage."

Metcalf said she called her sister every couple of weeks to check in on Cassey until her sister told her to calm down and reassured her dog was doing just fine in her new, temporary home.

So Metcalf let a few months pass without visiting the dog. It wasn't until six months later that she drove to Charlotte to see Cassey.

"I get there and open the car door and poor Cassey didn't coming running to the car door like she normally does," Metcalf said.

Right away, Metcalf knew something wasn't right. Her sister told her she had some upsetting news, but didn't have the guts to tell her earlier.

"There was a lot going on at the house one day. Cassey is very intuitive about big noises and is very sensitive when it comes to sounds. Something startled her," and Cassey had bolted, Metcalf said.

They searched for Cassey for several days, but weren't having any luck.

"It being in a different city I felt like I really had no hope, no chance of being able to find her. She's such a wonderful animal with a great personality. I knew if anyone new came in contact with her, they'd want to keep her," said Metcalf.

As more time passed without any sign of the dog, the Metcalf family tried to move on to fill the void Cassey had left.

"If we didn't think about it, maybe it wouldn't hurt so much. So we really tried to bring in other animals to take up the love we had for her. We've had guinea pigs, cats and everything else. But it never seemed the right animal fit," Metcalf said.

Even four years later, Metcalf's children would still mention Cassey, saying they'd do anything to have the dog back.

Then on Sept. 11, the family received a phone call that someone had found Cassey.

"Of course we couldn't believe that. We were so used to thinking that couldn't possibly be our dog," said Metcalf.

But as soon as the family was in touch with Cheryl and Scott Smith, the Charlotte, N.C., couple who had taken Cassey under their wing three days earlier, they knew they had finally found their long-lost pooch.

"We gave scars and descriptions to confirm it was really her. We didn't hesitate, we were on the road the next day," Metcalf said.

Cassey had lost seven pounds, had no collar and was covered in fleas, Metcalf said.

Elated at the news, the Metcalfs couldn't be more thankful to the Smith's for taking good care of her, and being persistent enough to track down the original owners.

"Once they spent a little time with her they knew she had come from a family. You could just tell. So they started taking her to the dog parks in Charlotte, taking her to the vet," Metcalf said.

The Smith's refused to leave the vet until Cassey's entire body was scanned for a microchip. They knew the friendly dog must have been chipped as a puppy, and was convinced it was on her somewhere. And they were right. The chip had migrated from the normal spot behind the neck, down under ribs.

Although the microchip's information was 11 years outdated from when the puppy was chipped at the Wake County SPCA, the Smith's were able to track down the correct information.

"I bent down and said 'Cassey girl' and she came right over to us. She knows exactly where she is now. She goes right to her same spot. I mean she has not changed any of those aspects," Metcalf said. "This house, the tears that were falling in this house, all of us were just in disbelief. The Smith's are such wonderful people. Something we cared about so much came back to us."
~~~~~~~~~~~~~~~~~~~~~~~~~~~~~~~~~~~~~~~~~~~~~~~~~
Saturday 9/22/12
I found the headline (below)... pretty surprising, to say the least!
Unaware of pregnancy, British soldier has baby in Afghanistan (

Reuters London Sept 20 2012

)
Now THAT'S the way to do it!!!
Thankfully, mother and baby are reported to be in stable condition. :-)


Friday 9/21/12
Today was "going to the Vet" day for both of our fur-kidz, Abby and Toby. On the agenda was their nail trims (they won't let us anywhere near them with a clipper) and Toby's annual checkup. It always amazes me how readily Toby will allow his temperature to be checked-- so readily and without resistance! ( not an oral temp!) BUT (no pun intended!)...Having him relax enough for me to pat the top of his head, or heaven forbid--actually pick him up--sends him into a frenzy! What's up with these kitty cats and their proclivities and their propensities anyway!
Here's some cute photos of Toby:
"I like to watch my cat videos...sometimes!"
"Nobody will know I'm in here!"
"I love the smell inside this laundry basket!"
"What do you mean this isn't safe?"
"How will I get down from here now? MOM!"
"I've had a full day and now I'm napping! Bye now!"


~~~~~~~~~~~~~~~~~~~~~~~~~~~~~~~~~~~~~~~
Thursday 9/20/12
Some cute photos (there's a new main blog post today!)
~~~~~~~~~~~~~~~~~~~~~~~~~~~~~~~~~~~~~~
Wednesday 9/19/12
This was so neat I thought I'd post this!
A man who survived while adrift in the Pacific for 106 days is crediting a shark for helping to save his life.
Toakai Teitoi, 41, a policeman from the Central Pacific island nation of
Kiribati
, had been traveling with his brother-in-law on what was supposed to be a short voyage, beginning May 27, from the Kiribati capital of Tarawa to his home island of Maiana.
But the mariners decided to fish along the way, and fell asleep during the night. When they awoke they were far at sea and adrift in their 15-foot wooden vessel. They soon ran out of fuel, and were short on water.
"We had food, but the problem was we had nothing to drink," Teitoi told
Agence France-Presse
news service.
Dehydration was severe. Falaile, the 52-year-old brother-in-law, died on July 4. That night, Teitoi slept next to him, "like at a funeral," before an emotional burial at sea the next morning.
Teitoi shared scant details of the ordeal after arriving in
Majuro
, in the
Marshall Islands
, on Saturday. He said he prayed the night Falaile died, and the next day a storm arrived and, over the next several days, he was able to fill two five-gallon containers with fresh water.
Days and weeks passed, however, and Teitoi, a father of six, did not know whether he'd live or die. He subsisted mostly on fish and protected himself against the searing tropical sun by curling up in a small, covered portion of the bow.
It was on the afternoon of Sept. 11 that he awoke to the sound of scratching against his boat. A six-foot shark was circling the boat and, Teitoi said, bumping against its hull.
"He was guiding me to a fishing boat," Teitoi said. "I looked up and there was the stern of a ship and I could see crew with binoculars looking at me."
The first thing he asked for after he was plucked from the water was a cigarette, or "a smoke." He was given food and juice and his rescuers continued to fish for several days before delivering him to Majuro.
Teitoi, who seemed in good health, said he booked flights back to his home island, adding, "I'll never go by boat again."
The record for drifting at sea is believed to be held by two fishermen, also from Kiribati, who were at sea for 177 days before coming ashore in Samoa in 1992.
--Note: Image is generic and the shark pictured is not the shark encountered by Toakai Teitoi
~~~~~~~~~~~~~~~~~~~~~~~~~~~~~~~~~~~~~~~~
Tuesday 9/18/12
I recently read about "Andrew Hales"-- a man who made the news (and video) because he had the desire to show complete strangers that "he
cared"-- by offering them a physical gesture of friendship. A hug is what he offered when he went to Rome, after doing his thing in Los Angeles, prior. He hugged both natives and tourists alike, and had plenty of mixed reactions to his "friendliness."
My hat is off to Mr. Hales. Just think what a wonderful world this could be if we all offered kindness to strangers, so they would know that we cared...Oh wait...that is what Jesus has already instructed us to do!!!
~~~~~~~~~~~~~~~~~~~~~~~~~~~~~~~~~~~~~~
Monday 9/17/12
Yesterday was my late son Michael's birthday. At church, something interesting happened. I was kneeling, and looking down, something caught my eye. A penny right in front of my foot! I thought to myself "How appropriate today"... since I'm one of those that feel that finding a penny, indicates a deceased loved one communicating with us...I reached down to the floor in front of my foot and grabbed at...nothing! There was no actual penny on the floor. It was just a SPOT on the hard floor... exactly the size of a penny and colored exactly the same as a real penny...
Maybe the meaning was supposed to be that the value of money in this life is very illusionary...fleeting and non-permanent...as opposed to eternal life which has eternal value?!
As I posted this, a song on my computer's iTunes came on...out of the blue "How Great Thou Art" started to play...even though another song was highlighted and supposed to be playing...God works in mysterious ways!
~~~~~~~~~~~~~~~~~~~~~~~~~~~~~~~~~~~~~~~
Sunday 9/16/12
1
2
3
Here's some pictures...
of Jesus SMILING...Something we surely do not see enough of! My favorite is the last one-- number 4.
4
~~~~~~~~~~~~~~~~~~~~~~~~~~~~~~~~~~~~~~~
Saturday 9/15/12
I have good memories of taking my kids down slides in the park. One day, walking alone with Daisy, my Golden Retriever, I decided it was high time for my "fur-kid" to get a ride down a slide!
With no one around the play area at the time, we quickly went up the steps before she could think too much about it. Then, keeping her in front of me, I wrapped my legs on either side of her so she wouldn't try to scramble out. Down, down, down the slide we went! She hardly knew what happened it went so fast! We only got the one ride in though, before she developed arthritis, and I was then extra careful not to overstress her hips.
I look back and smile every time I think about going down that slide with Daisy...especially the little swirly built into the end of the ride. Ha!
~~~~~~~~~~~~~~~~~~~~~~~~~~~~~~~~~~~~~~~
Friday 9/14/12
I recently read an amusingly different version about the possible answers given from God to prayer. They are either:
1) "Yes"
2) "No" OR.....drum roll please...
3) "I'm working on it!" (a variation of "Not now!")
2 Corinthians 1:19 (NIV) tells us:
For the Son of God, Jesus Christ, who was preached among you by me and Silas and Timothy, was not "Yes" and "No," but in him it has always been "Yes."
At times it takes "creative thinking" on my part--and much fathoming on my part-- as to why some things are the way they are... to "find the "Yes." Remembering that "nothing is impossible with God" and reminding myself that He can and does restore to us, not only in this life, but also in the next, definitely helps!
To be submissive to God's Will involves our
trusting Him
on His choice of answer to our prayer.
Trust
is a big factor in being in sync with what God has allowed to happen in our lives.
And trust... sure is a lot
easier
when things are going well!
~~~~~~~~~~~~~~~~~~~~~~~~~~~~~~~~~~~~~~
Thursday 9/13/12
Memories of my children started to bring me more happiness than tears... further on down the road. I started to notice new little things in photos that I had looked at so many times-- and yet had not "seen".
It was a new experience for me, to have something of them newly added again to my life...no matter how small or seemingly insignificant to others.
~~To me, memories of my children now, are like uncovering a boxful of fresh flowers... that will never wilt...~~

~~~~~~~~~~~~~~~~~~~~~~~~~~~~~~~~~~~~~
Here's something funny that happened when Kevin (my child from my remarriage) was in a stroller and we were both out "window shopping" one day. There was an abundance of grasshoppers that day... and one jumped right smack up onto Kevin's tummy! He was looking in a large store window at the time and never felt it. Before he could discover this huge grasshopper was on him, I quickly pointed out something "else" he should be excited about in the window-- and hurriedly brushed off that horrid (and rather large!) critter. Thank goodness he never noticed it! Now, if that had been even a teeny tiny spider...the outcome may have been a bit "different!"~~~
~~~~~~~~~~~~~~~~~~~~~~~~~~~~~~~~~~~~~~~
Contrary to societal opinion (that seems to opt for bereaved mothers to remain permanently defeated)...moving "forward" after grief... does NOT mean we've left our child behind--they're in our heart and soul!-- and with us always.
~~~~~~~~~~~~~~~~~~~~~~~~~~~~~~~~~~~~~~~~
Sometimes when I go to certain links while surfing on the web, I'll get notification that "Access is denied."
With our children now being deceased, yes it is true we no longer have "access" to their physical body...BUT we do have 24/7 access to their Spiritual body...so much MORE ability to communicate with them than we ever did before. No "Access is denied" when it comes to us and them being Spiritually united!
~~~~~~~~~~~~~~~~~~~~~~~~~~~~~~~~~~~~~~~
Monday 9/3/12
(Seems to me a little laughter might be good for the Monday blues...)
Top Ten Rules of Dieting
1. If you drink a diet soda with a candy bar, the calories in the candy bar are canceled out by the diet soda. (This rule also applies to mixed drinks. Example: rum and diet coke)
2.When you eat with someone else, your calories don't count if they eat more than you do.
3. Calories in food used for medicinal purposes NEVER count. Examples: hot chocolate, brandy and Sara Lee Cheesecake.
4. If you fatten everyone else around you, then you look thinner.
5. Movie related foods (Milk Duds, buttered popcorn, Junior Mints, Red Hots, Tootsie Rolls, etc.) do not have additional calories because everyone knows that movies aren't real.
6. When preparing food, things licked off spoons and knives have no calories. Examples: peanut butter on a knife when making a sandwich; ice cream on a spoon when making a sundae; cake frosting.
7.Broken cookie pieces contain no fat. It leaks out.
8. Foods that are the the same color have the same number of calories, Examples: Spinach and pistachio ice cream; mushrooms and white chocolate. (Note: Chocolate is a universal color and may be substituted for any other food color.)
9. Calories are a unit of heat. Therefore, frozen foods have no calories. Examples include ice cream, frozen pies and Popsicles.
10. Wild Card. Each dieter may add one rule that pertains to their particular, unique situation. For example: Pork Bar-B-Q has no fat or calories on all legal holidays in Alabama, Mississippi and Georgia.
(adapted joke from funnycleanjokes.com)
~~~~~~~~~~~~~~~~~~~~~~~~~~~~~~~~~
~Matthew 11:28~ (NIV) I love this verse because it seems almost "motherly" in tone, to me. Loving mothers care about their children--and want to ease their burdens-- out of love for them...
~~~~~~~~~~~~~~~~~~~~~~~~~~~~~~~~~~~~~~~~
Saturday 9/1/12
taken from Jokesfind.com



| | |
| --- | --- |
| | Q: What kind of work does a weak cat do? - A: Light mouse work.... |
~~~~~~~~~~~~~~~~~~~~~~~~~~~~~~~~






"your eyes saw my unformed body. All the days ordained for me were written in your book before one of them came to be."



This psalm has been extremely helpful to me...it helps me understand that nobody cheated my children (or me) because God always knew how long my children were going to live and allowed that length of time...and not a day more... for reasons known only to Him (for now anyway!)

~~~~~~~~~~~~~~~~~~~~~~~~~~~~~~~~
Question: What do you call it when a cat bites???

Answer: catnip!!! (with 2 rescues...I'm familiar with both of these!) Donna
(joke from Find Jokes.net
)
~~~~~~~~~~~~~~~~~~~~~~~~~~~~~~~~~~~~~~~~
Always remember...that each and every day that goes by...we are ONE DAY CLOSER to being joyously reunited with our beloved children in Heaven!!! We have so much to look forward to!!!
~~~~~~~~~~~~~~~~~~~~~~~~~~
Tuesday 8/28/12
This photo I took (weatherman's first day on the job?) lends new credence to the phrase "It's hotter than Hades here!!!" 172 degrees?
~~~~~~~~~~~~~~~~~~~~~~~~~~~~~
Monday 8/27/12
I read something the other day that I'd never thought about before..."Because our children are in Heaven...a part of US... is ALREADY in Heaven." !!!